Mecatecno has competed at the last few Trial E World Championships with the Dragonfly, and the new V.2 is looking like all that combined knowledge is being showcased in this upcoming edition. There has been some small production delays with the V.2, but this is due to Samsung, the battery suppliers, coming out with a newer high performance cell with a sigificant increase in power. This meant not only a battery re-design but also an upgrade to the frame and numerous other components to maximise the new power available. The Hell Team are in close communication with the Mecatecno Factory in Barcelona and will have bikes available as soon as possible in 2020.
Please register your interest with Paul at The Hell Team, and we will keep all Trials Australia readers up to date as information becomes available.
---
IMA (independent motor assembly)

> SPECS:

Motor: BLDC 15Kw, 48V, oil cooled.

Gearbox: 5 speed.

Clutch: Multidisc hydraulic spring system.

Housing: Combined 6082 T6 / 7075 T6 Aluminium CNC milled block.

IMA is a system that divides the power train in two differentiated blocks: the electric motor, and the gear/clutch box.
> GENERAL BENEFITS

*INDEPENDENT MOTOR: This architecture allows a clean and more convenient motor maintenance, better electric isolation, and a very fast "in-race" motor replacement in case of failure.

*SPRING MULTIDISC CLUTCH: Mecatecno have a traditional spring type mechanical clutch because it provides a better control, higher precision, higher inertial properties and more setting possibilities. This turns into a more sensible control in classic riding style or a faster response in modern riding style, depending upon the chosen setting.

*5 SPEED GEARBOX vs SINGLE SPEED: Including 5 speed allows a higher control in sections and a more comfortable ride in intersections. It has also a direct impact on energy savings.



CFA (combined frame assembly)
> SPECS:

Main frame: ø18mm CroMoly tube.

Side tie bars: CNC milled 6086 T6 Aluminium.

Skid plate: 6mm 7075 T6 Aluminium.

Structural motor plate: CNC milled 7075 T6 Aluminium.

Anti twist skid plate clamps: 6082 T6 Aluminium.

CFA is a system designed to take full advantage of the electric propulsion. This means in other words, not having to stick to the geometric rules of the thermic bikes.

In general terms, a thermic bike frame has to be structural by itself. All elements are hooked to it, and it is subject to a great deal of weight, tensions and constant vibrations. As opposed, the Dragonfly frame is not structural by itself. Like the human body, in which the bones wouldn't stay in place if they weren't tightened by the muscles, all the surrounding elements participate structurally adding strength where it is requested. This concept, together with the fact that the number of elements is much less, quite lighter and free of vibrations, allow a great deal of benefits. These are some of them:

> General reduction of tubular frame weight and dimensions.

> Better distribution of the suspended mass and better placement of the center of gravity that has a direct impact on stability, balance and weight sensation.

> Great control over frame rigidity with hi impact strength on the central area, and controlled torsion close to the steering pipe that allows for a smoother riding.

> Reduction of skid plate area and dimensions that has a direct impact on the part strength.

> Simplification of assembly steps that has a direct impact on the motorbike maintenance.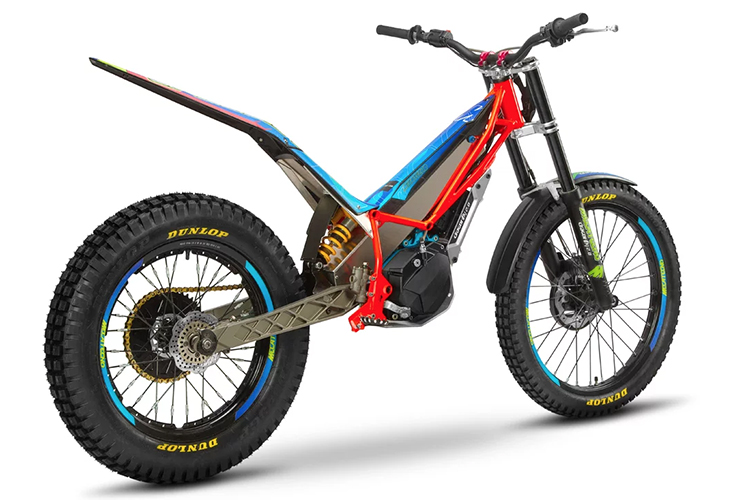 CMBP (centered mass battery positioning)
At first glance, the main perceived feature is a very accessible, easy to replace yet protected battery, but there is much more at play. In an electric motorcycle, the battery pack is the heaviest suspended element. Hence, it plays a determinant role in both behavior and performance of the bike. In other words, a same weight put here o there, can make the bike feel lighter or much heavier, can help an easy and precise riding or make it feel like riding a wild horse.

Our goal: to achieve the most precise, easiest and less demanding ride the possible. To achieve it we decided to distribute the mass alongside the frame and swing-arm length, moving its center of gravity the closer to the wheel axis the possible.

The result has been an unprecedented mix:
> Increase of stability and balance
> Increase of lightness feeling
> Increase of traction on rear wheel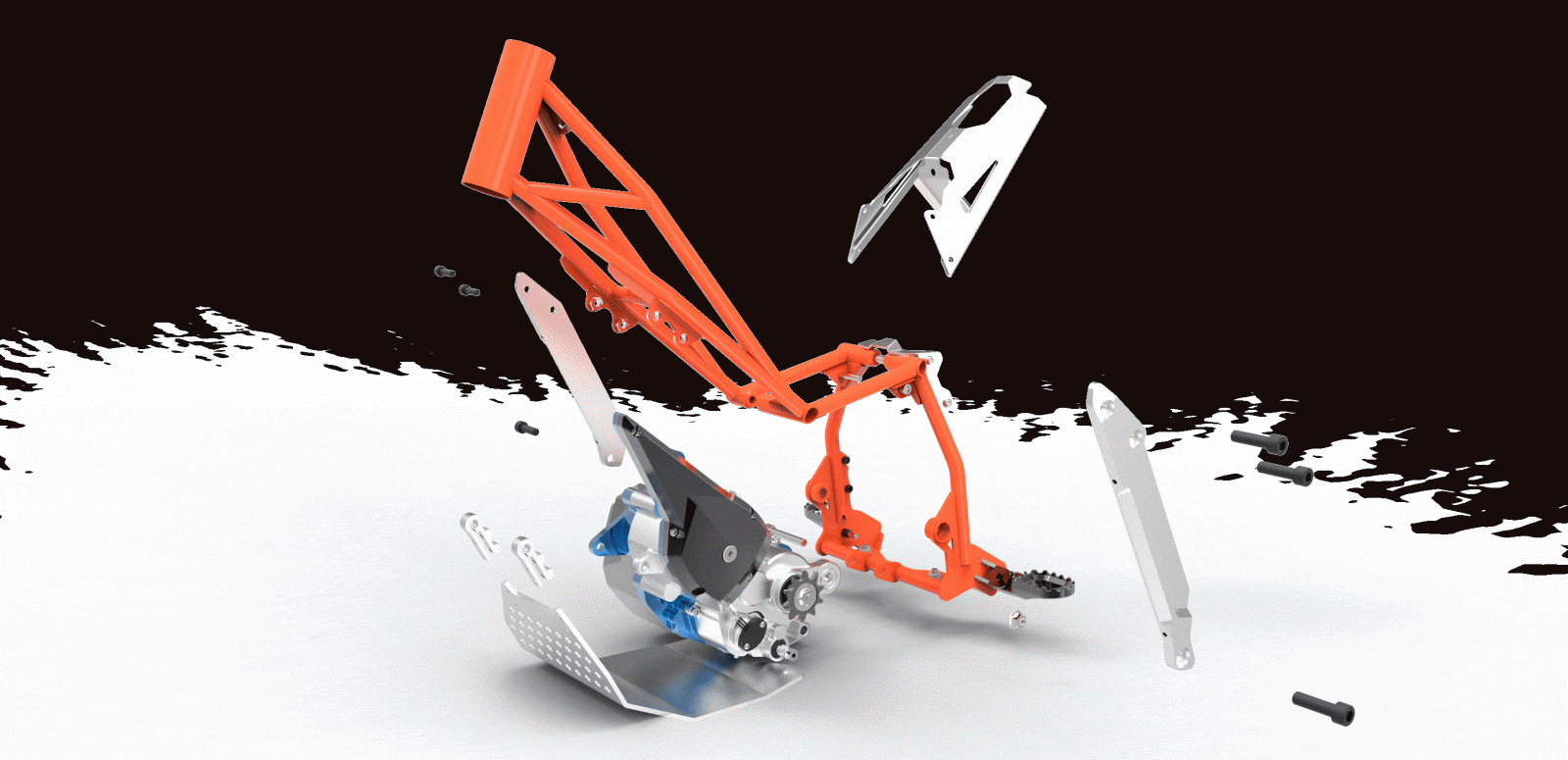 LLPD (linkless progressive damping)
A progressive suspension is a must in trial practice. It helps performance in all grounds, it helps contact at low and high speed. But not everything is positive, because a progressive suspension with a linkage system adds weight, complexity, and overall a great deal of maintenance. You must always keep an eye on the bearings and the fastenings, which are too sensible to harsh conditions. Moreover, it only works fine when everything is in place, a deformed link, a worn off bearing may easily make the system go awful.

But is it possible to get a progressive system with no linkage? Not easy, not cheap, but yes.

First of all, it takes an excellent shock, sensible yet robust. For us, ÖHLINS is the best solution.

Second, we need a ventilated environment to make sure it is stable. In thermic bikes the shock is surrounded by the exhaust pipe, hence overheated by external agents, we don't have the same problem.

Finally,
it takes the right geometry. After a number of tests, we have developed a geometry that replicates in behavior our former linkage system, but it spares pieces, weight and maintenance.
Please contact THE HELL TEAM for more information.