Yes Issue 77 is available now. Lots of news, reviews and all around trials action. New 2020 bikes from GasGas and Beta. Focus on new multi discipline models - GasGas CONTACT, TRS X-Track, EM Escape, Montesa 4Ride and heaps more.
$15 delivered to your door. Available from www.thehellteam.com
It's full to the 'Brim' of 116 pages full of motorcycle trials!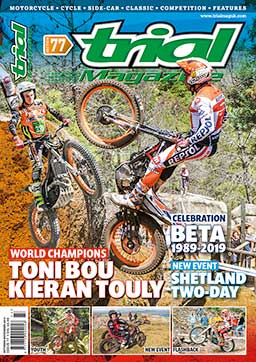 New Models: 2020 – Gas Gas-Beta – Scorpa
Super Shot: Kieran Touly (Scorpa-FRA) – World Champion
International: FIM Trial World Championship
What's New: 2009 – 2019 FIM Trial World Championship
Focus: Beta 1989 – 2019 – Evolution of the Beta
Sport: British Championship
Flashback: 1999 European Championship
Youth: British Championship
New Event: Shetland Two Day – Simmer Din
Options: Trail – We Look at the Options
Plus all the regular features including 'Talk Trials' with Toni Bou, News, Paddock Pictures and so much more – Remember it's only Trials!!
$15 delivered to your door. Available from www.thehellteam.com